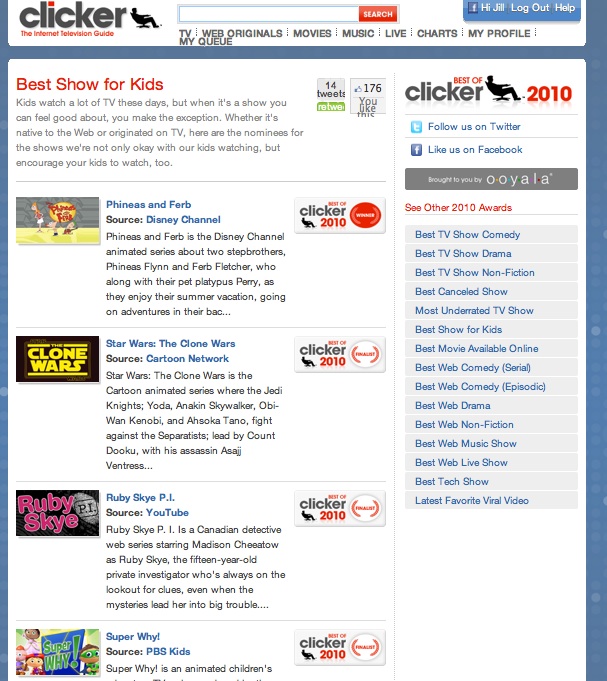 Kellie Ann Benz has an interesting piece on the NSI blog about How Internet Networks are Connecting Web Series to Audiences.  I like it not just because she quotes me, but because she highlights an important piece of the new model.
When you're a web series creator, you quickly learn that there is no end to the work.  All your episodes maybe online, but there are always people left who haven't seen your show.
That's where an internet network can come help.  For Ruby Skye P.I., we're working with a few of different networks each a wonderful support in its own way.
In addition to the Ruby Skye P.I. website, we have our videos up on many many video sharing sites — YouTube,  Vimeo, BlipTV, MetaCafe,  Daily Motion, Blinx, eBaum's World,  Viddler,  Veoh,  VodPod, Stupid Videos, AOL Video and Yahoo).
I can distribute the video to them fairly easily using BlipTV or Tubemogul, but still have to go to each site, set up a channel and profile, add pictures and tags, check each upload to make sure the tagging and thumbnail are correct.  And then I still have to go spend lots of time on the site to build an audience there.
There are other downsides to these sites.  Did I mention the porn ads next to our tween friendly videos? And although some of these sites have huge numbers of users, it can be hard to be seen on the sites.  With millions of videos, how do you make sure people find you?  Even with excellent tagging and video SEO, there's no guarantee you won't get lost in those crowded spaces.
Plus many of these sites have 100 MB upload limits which limits the quality and length you can offer on their sites.  Or their conversions downgrade your video quality.  Shot in HD and with lengths of 5 minutes or more, many of the Ruby Skye P.I. episodes aren't on many of the sites we have channels on.  I will eventually get around to creating lower quality (and thus smaller) versions of those episodes, so we can get them on those sites, but at the moment I have neither the time nor the heart to downgrade the quality of our work.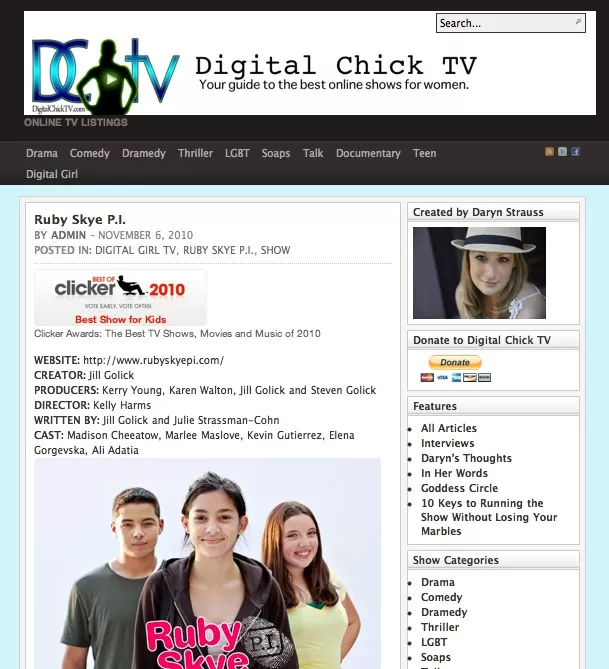 This is where networks like Clicker, Digital Chick TV and MingleMedia TV start to make a lot of sense.  They are smaller spaces with selected content and engaged audiences.
They feature content that's created for the web, which means there's less clutter.  They also have a vested stake in seeing your show do well, because they have less on their shelves, so to speak.  It can't hurt to have extra people on your team, helping to promote your series.  Each of our partners has already provided us with something unique and wonderful and we're just at the very beginning of our relationships.
For examples, the Best of Clicker is an opportunity for the community to vote on their favourite shows in various categories.  Ruby Skye P.I. got nominated in the Best Kids category and miraculously came in third in a field of TV series!  This has been great for us, brought in new viewers and raised our profile, among other things attracting this wonderful review from a new fan.
DigitalChickTV mentioned us in their What You Should Have Watched in 2010 review.   We're their only series in Digital Girl section right now which makes Ruby Skye P.I. very easy to find!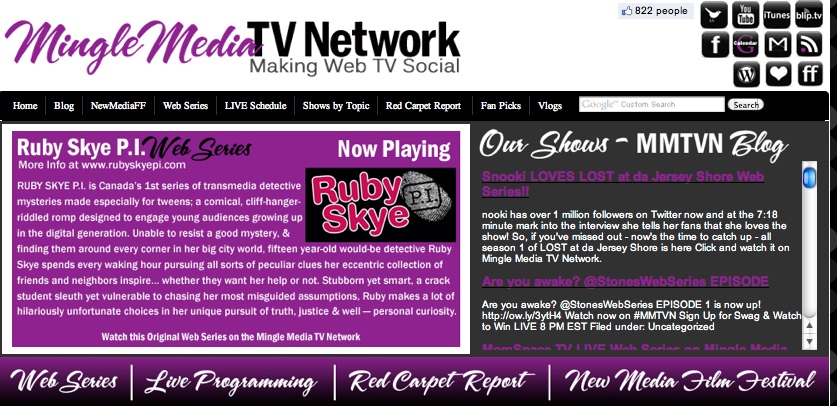 We are just at the beginning of planning some cool promotions with MingleMedia TV.  Founder Stephanie Piche is very hands on and marketing savvy, working hard to promote the series and creators she is working with.  I don't know how she gets anything done, because it seems like she's almost always on Twitter!
MingleMediaTV has interesting ways to help web creators keep current on trends and get their work seen, including supporting meetups, industry panels, a new media film festival and Twitter's weekly #webserieschat.
This is why internet networks are so valuable and growing in importance to web series creators.  Because promoting your work is an endless task and it's great to have supportive partners working at with you!