I have information about six rallies planned as part of the International Day of Solidarity in support of the WGA strike. All of these events will take place on Wednesday November 28th, 2007.
12 noon
outside the Trades Union Congress HQ in Great Russell Street in central London (map).


In Toronto:
The Sony Centre (formerly the Hummingbird Centre)
@ the corner of Yonge and Front Street
In Montreal:
10:30am to noon


meet at the SARTEC offices (1229, rue Panet in Montreal – between René-Lévesque and Ste-Catherine).
In Dublin:

3:00 pm
Guild Office
Art House, Curved Street, Temple Bar
(According to the Irish Playwrights and Screenwriters Blog)
In Paris:

à 16 heures précises
sur l'esplanade du Trocadéro,
(According to the UGS website )
(From the AWG site)
In Sydney:

4.30pm
Sydney Square, Sydney Town Hall, George Street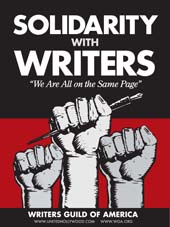 (meet from 4.15pm)
In Brisbane:
5.00-5.30pm
Queen's Gardens, cnr. Elizabeth and George Sts, Brisbane
In Perth:
5.15pm to 6.00pm
Entry Forecourt, Perth Railway Station, Wellington St, opposite Forrest Place.
RSVP: Please email [email protected] with "Solidarity" in the subject header
If you hear of others, let me know.