2007 was a year of great television. Here are my favourite series from the last year, in alphabetical order.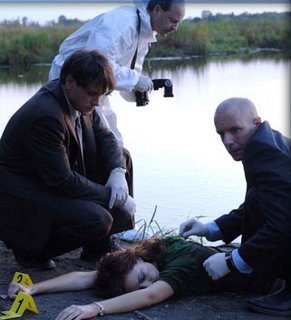 Durham County: Uncomfortably set beneath the powerlines of a bleak and sprawling suburb, the miniseries created an incredible atmosphere. I felt I was hanging in that world for hours after every episode. Durham County was written and co-created by Laurie Finstad Knizhnik.
Friday Night Lights: I wasn't happy about the first episode of season two but I was wrong about the Landry-Tyra subplot. They wo
rked it well. The shooting style gives the series an immediacy that I love. I do miss the season one structure in which we followed the characters through the week and the episode culminated in a game. It's still great viewing and one of the few network shows I'm still watching weekly. This season Friday Night Lights is exec produced and showrun by Jason Katims.
Jekyll: A modern piece of horror that was utterly original. Scary, rivetting and powerful the initial episodes are so wonderful that you don't mind that story falls apart at the end. Jekyll was written by Steven Moffat.

Mad Men: Dense delectable drama with turns that are unexpected yet inevitable. The characters who refuse to act like they are TV. Mad Men teaches us a whole new way to write television. Mad Men was created by showrunner Matthew Weiner.
Saving Grace: When I watched the pilot I loved Grace's character and was furious that they were sending in an angel to save her. As it turned out, they new what they were doing. This is a terrific series and the character of Grace is someone I've never met on television before. She just keeps getting more complex and deeper. And there are no easy answers to the questions the series raises about religion. Even the episodic mysteries are good. Keep 'em coming. Saving Grace was created by exec producer Nancy Miller.
Secret Diary of a Call Girl: Where is the buzz around this show? It's funny, sexy as hell and even romantic. If you like a good sex scene, Call Girl explores territory no tv show has seen before. It's a half hour of total fun. Call Girl was created and written by series co-creator Lucy Prebble based on the weblog of Belle du Jour.
Skins: Brilliant portraits of kids in their late teens/early twenties. Drugs, sex, alcohol, anorexia and all the confusion of life presented in a way which feels completely authentic. I love these characters. Bryan Elsley wrote the pilot and several other episodes.
30Rock: One of my other network favourites. What can I say? It's very very funny. And the characters are wacky and original. Tina Fey runs the show, writes episodes and stars as Liz Lemon.
Honourable mentions go to:
Californication excelled at irreverence. Tom Kapinos created the show and wrote twelve episodes.
Curb Your Enthusiasm didn't have its best season but was still worth watching. Curb was created and is showrun by Larry David.
Flight of the Conchords was deadpan funny with brilliant songs. Series writing credits are shared by James Bobin, Jemaine Clement and Bret McKenzie.
Heroes managed a few good episodes this season. Tim Kring showruns.
Intelligence is densely brilliant but if you haven't watched from day one, impossible to break into. Chris Haddock created Intelligence and runs the show.
Journeyman was my favourite of the new network shows. Created by Exec Producer and writer Kevin Falls.
Oliver Twist 2007 is a beautiful remake of the classic story. The miniseries was written by Sarah Phelps.
The Riches entertained but failed to sustain.  Nonetheless it remains one of my favourite pilots. It was created by showrunner Dmitry Lipkin.
Weeds is still fun in its third season. Weeds was created by showrunner Jenji Kohan.
If you're looking for trends, you'll notice a lot of antiheroes amongst my favourites but relatively few superpowers considering how many abnormally powerful characters there were on television this season. You'll also note that there are some great female protagonists, everyone of them an antihero.
There are few ensemble casts in my picks. They are almost all shows focused on a single lead.
In terms of the arc of the storyline, it's seems that anything went in 2007. Jekyll, Durham County and Oliver Twist each tell a single story in a few episodes. Friday Night Lights, Intelligence, Californication, The Riches, Heroes, Weeds and Saving Grace are arced series, best enjoyed in order.
As to Curb, Conchords, Journeyman, 30 Rock, Skins, Mad Men and Call Girl all have arcing elements but you can tune into any episode in the season and enjoy it. But you wouldn't want to do that. The shows are so good you want to see them all, in order.