Image via WikipediaDMc tagged me with the latest music blog game going around:
"List seven songs you are into right now. No matter what the genre, whether they have words, or even if they're not any good, but they must be songs you're really enjoying now."
There's a generosity about those instructions, isn't there? An inclusiveness: any genre, words or no. The songs don't even have to be good. But do they have to be songs? Or even music? Can they be any media I'm enjoying?
Why not? This is the internet, so I'm going to do what I want. I'm taking some liberties with the rules and changing them completely.
So here are the seven that I'm truly enjoying right now:
How Do You Solve a Problem like Maria? I started watching the CBC show for two reasons: 1. I love Gavin Crawford. 2. My daughter is obsessed with musicals in general and the Sound of Music in particular. Now I find I've developed an unlikely crush on Simon Lee who radiates enthusiasm and positive energy.
Girls Like Us by Sheila Weller documents the lives of Joni Mitchell, Carly Simon and Carole King. It's a great read and nice and thick. As I read, I'm revisiting the work of all three singer-songwriters. Joni's Coyote is currently in heavy rotation.
Twitter continues to obsess me. It's like catching snatches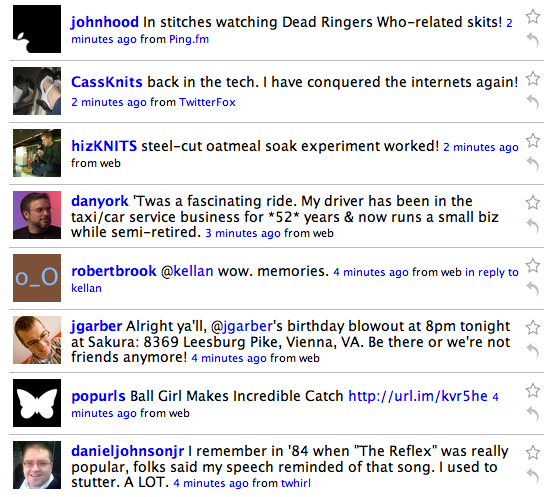 of conversation coming from other tables at a restaurant only there are hundreds of conversations going on all over the world. Recently Ze Frank ran a Color War on Twitter and one day we played Bingo. It's the ultimate time waster.
While we're on online stuff, I've been trying out Zemanta, a blogger's tool that finds you links and images to use in your posts. So far, I like it.
My friend Bobby recently gave me Not Just the Best of the Larry Sanders Show which is a great dvd set. I have been staying up late into the night working my way through some great episodes of the series. The special features are amazing. I loved Garry Shandling's boxing match with Alec Baldwin.
And how great is YouTube? It just gets better and better. Want to learn about the open tuning on Cold Play's Yellow or how to do a twisted cable cast on? Want to catch Jerry Seinfeld telling Letterman about the woman who's suing his wife or see the switch hitter face off against the switch batter? It's all there — at least for a while. YouTube is now sitting alongside Google for me in the "how did we have a conversation before it came along" category. On the downside is the annoyance factor of when the video gets removed after you've blogged it.
The final item in my seven is the original topic for this blog: pilots. Thanks to the wonders of the web I have incredible advance access to the US fall season. I have a stack of pilot scripts and now the preair leakage is starting to drip through. I'm particularly looking forward to Pretty Handsome which I hear is great and Steven Bochco's new series Raising the Bar.
And those are my seven according to my revised rules:
"List seven entertainments you are into right now. No matter what the genre or medium, or even if they're not any good, just so long as you're really enjoying them now."
Now for the tagging. Denis and Will, if you'd care to replay with the new rules, please do. Bill and Robbo I know you'll have something interesting to add.