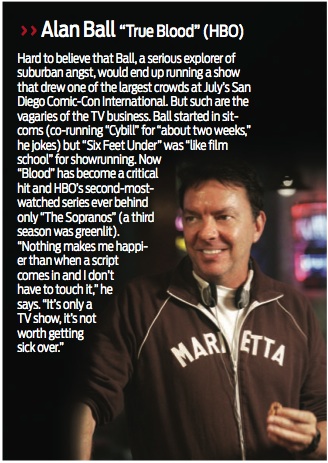 If you've been watching Entourage this season, you know that Ari is desperate to sign showrunners.  In the last episode, the stakes in Ari's storyline were all about Aaron Sorkin, who was the guest star.  Entourage always has cameos for stars.  This season they've featured Jeffery Tambor, Mark Wahlberg and Jay Leno among many others, so it's nice to see a showrunner along side Hollywood's other stars.
Yesterday, Hollywood Reporter ran a six page spread on showrunners.  The showrunners profiled in  Show and Tell include Alan Ball, Matt Weiner, Vince Gilligan, Shonda Rhimes, Doug Ellin, Joss Whedon, Jenji Khohan and Jason Katims. There lots more, all with pictures.
The piece isn't high on content, but it sure is nice to see these guys getting the star status they deserve.