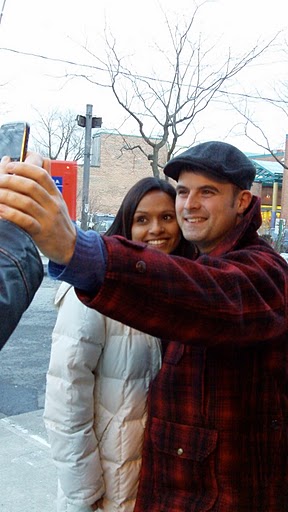 We shot the posts for Barbara's video log this evening.  And the first is already up.  The amazing fluidity of working in the digital space.
Last Sunday, at the Crushing It story meeting, we realized how hard it was proving to get to Barbara's story — Barbara being the character I'm writing and who is known on Twitter as barbology.  There was really no way on Twitter to get to her subtext.
That night I decided to write her a little video blog that we could post day by day over the week.  Dharini Woollcombe — who I've worked with before and whose work I love — agreed to play her.
I looked at my week's schedule and saw a gap of about 4 hours Thursday afternoon and evening.  That was going to have to be when we'd shoot it.
I'd never met Jennifer Liao before she sent me an email volunteering to work on Crushing It.  Every minute I spend with her, I'm more amazed by her skill set, her calm competence and her sly creativity.  At our first story meeting, she showed us her new HD flip-style camera.  And I'd seen a test web video she'd shot for her character, Neal (@youngneal).  So I asked her if she would shoot Barbara's videos with it.  She agreed.
Next, a location.  Scott Albert's office seemed like it would suit my needs.  Not just because it would look right but because Scott seems to know how to just about everything well.  Bonus: Scott invited Ben Walsh who's playing Scott's character, David to join us.
What else really?  Oh yeah, scripts… the hard part.
Today we shot.  We met at Scott's office around 4:30.  Wrapped and home by 7:30.   Uploaded the first of the videos by 10.  I built Barbara a little blog on tumblr and boom! Done.
Conception to distribution in less than five days.
Who loves the web?
That would be me.