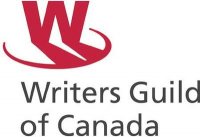 The Writers Guild of Canada is only 15 years old.  In that time, we have had two presidents, Pete White and Rebecca Schechter.  Two presidents until this afternoon when the new Council elected me to the post.
Most of the councillors who began their two year term May 1 are returning: Charles Lazer, Andrew Wreggit, Denis McGrath, Anne-Marie Perotta, Sheri White and I were all part of the last Council.  Mark Ellis is joining us for his first term.  They are an awesome, brilliant, talented and experienced group.  I am honoured and humbled by their faith in me.  Andrew will serve as Vice-President and Chuck will continue as Treasurer.
These are crazy times.  The film and television industry is facing massive changes.  Those who have met me or read this blog know that I am deeply interested in the future of the entertainment industry and pushing the boundaries of screenwriting.  I hope that in my term as president I can help set industry standards that will allow screenwriters to pursue their craft and thrive in the digital economy.
That's the big dream.
There are many immediate issues facing our guild: Dropping rates for animation writing; new copyright legislation; the business of feature film writing in Canada; the upcoming broadcaster license renewals and more.  There is a lot of work ahead.
That work will be done with amazing skill and diplomacy by our staff.  I know of no organization that functions better.  Executive Director Maureen Parker is an phenomenal leader and I am looking forward to our collaboration.  Director of Industrial Relations Laurie Channer stands guard over our agreements with moral authority and a sense of humour.  Director of Policy Kelly Lynne Ashton leads the policy charge with passion and an uncanny ability to make complex issues crystal clear.  Director of Communications David Kinahan gets the message out with a sly enthusiasm that is undeniable. Director of Member and Information Services Terri Mark keeps the chaos under control, managing to chip away at costs while streamlining and updating all the Guild's systems.  Marisa King manages our sister organization, the Canadian Screenwriters Collection Society, with a smile so winning that other countries throw money at us.  And then there's the elegant, efficient Tannis Stewart — just knowing she's on the case provides an incredible sense of security.
And that's just the front line.  Behind all of them is our smart, strong, hard working staff.
These people do the work.  The president and Council are there to set priorities, guide and advise.
There is one more important component to the WGC's strength: Its 2000 members.  The guild belongs to us. We pay for it with our dues.  Its purpose is to further our professional, creative and economic rights.  It exists to serve us.
Over the last few years, a strong sense of community has developed among writers in this country.  I hope to see that grow in the next two years.  Yes, we face challenges and upheaval.  But with change comes opportunity.  We have the opportunity to reshape the world in which we work, to put the artist's agenda front and centre, to make the creator's voice heard.
To achieve this, we must work together.  I urge you to get involved in the Guild.  I want to hear your ideas.    Let's work together.
This is the writers' time.