I'm a well known optimist… or is it self-delusion? I thought that things would calm down a little during production and that during our long nights shooting I would be at my computer blogging and tweeting and updating the world on the amazing progress of Ruby Skye P.I.: The Haunted Library.
And because I'm the type who never lets reality get in the way of belief, I lugged my computer to set every day, set up a desk in the production office and never once turned it on during the 10 day shoot.  At least, not during the shoot hours.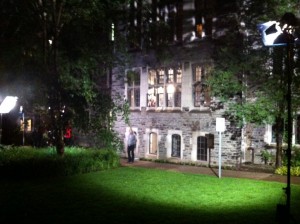 We shot at the amazing Emmanuel Library which is on the Victoria College campus of the University of Toronto — an incredibly beautiful location.  The library is open during the days, so we took it over every evening at 5:30 and wrapped out of the building at 6:30 the next morning.  I'd sleep for a few hours and as soon as I opened my eyes, I would be on the computer… answering email, fiddling with the script and doing God knows what that wasn't blogging.
Luckily, Kelly Harms was not wasting time while I was filling up my hours with what, I don't know.  He was making an unbelievable film.  I beg of you, do not tell him that Ruby Skye P.I. is a web series.  He seems to be functioning under the belief that it is a high budget feature.  OMG, talk about gorgeous.  You will not believe it when you see it.
We shot on the Red, which has its pros and cons.  Pro: absolutely exquisite and a quality that will look amazing on any screen anywhere.  Cons: there are costs associated in terms of lighting gear, time and post production workflow.  Any time I feel the slightest doubt about whether the Red was worth it, I just glance at the footage and all doubts fade.
We wrapped the 10 day shoot at dawn on Saturday June 1.  Post-production proceeds apace.  Unfortunately, I'm not there.  The second we wrapped principal photography, I got on a plane to PEI to teach at the PEI Screenwriting Bootcamp.  I was back in Toronto for 36 hours before I headed here to Banff for the World Media Festival.