Technology has affected writers in the last 10 years.  In my last post, I talked about viewing habits.  Today, I'm going to look at some of the other digital developments and how they affected us.
Blogs

Although blogs have been around since the mid-90s, free blogging services that made it possible for anyone to blog easily arrived late the last decade (Blogger, LiveJournal) and early in this decade (WordPress in 2003).

When writers Alex Epstein (2004) and Denis McGrath (2005) started blogging something interesting happened.  Canadian screenwriters had touch points to connect them daily.  Peers were writing about topics that all of us think and talk about.  I don't know about the rest of you but a lot of my work day is devoted to staying at my desk but avoiding the script at hand.  Blogs gave me a new way to do that seemed way closer to writing than trying to put a black king for my red queen.  The added benefit was learning about my craft, other writers' process and the industry.
The collection of great blogs to read on a daily basis grew.  More and more Canadian screenwriter blogs showed up online.   Also a group of writers covering the TV beat but who weren't screenwriters, like Diane Wild and Jaime Weinman.  And of course there were amazing American, British and Australian screenwriting blogs to read too.
The term scribosphere was coined by Craig Mazin in 2005 in a comment on a post by the Thinking Writer (Jon Deer) to describe the explosion of  screenwriting blogs.  The Thinking Writer was musing on the value of all the writing advice that was being doled out in all these blogs.  Mazin felt that scribosphere is "helping build a collective body of general wisdom, and that's a good thing."
It did something else as well.  It built a community; a group of people around the world, sharing ideas, jamming on them, arguing about them.  Borders and distance were no longer part of the equation; we could talk the craft and politics of writing with scribes from around the world.
When writers around the world took to the streets in support of the WGA strike, our blogs shared the event.  On that day, November 28, 2007, we truly became one worldwide community of writers.
Facebook

Facebook launched in 2004 and opened up to non-college users in 2006.   Writers joined in massive numbers in 2007.  Karen Walton opened Ink Canada (Facebook edition) in those early moments helping to solidify the growing digital writing community that was forming around the scribosphere.  Facebook's events would also become important to our  local community as Karen, Denis and Alex began using them to organize writer events around the country.  Turns out writers do good party.
To me, Facebook looked like a new medium for narrative.  Unfortunately, Facebook didn't quite agree.
Twitter
Twitter (created in 2006) became writer central in late 2008.  Soon writers were telling jokes, watching tv together, talking policy and promoting each others work.  We got to go to the CRTC hearings with Kelly Lynne and to the copyright town hall with DMc.  We learned about Pinky the balloon from RobboMills.
iPhone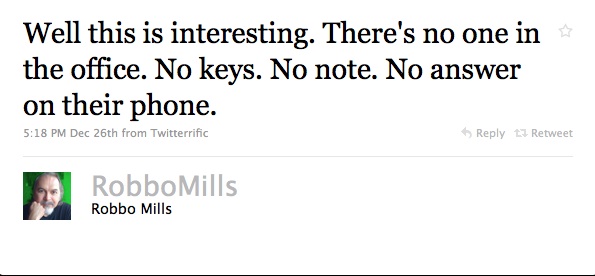 iPhone: The members of the writing community have been early adopters of the iPhone.  Put them together with Twitter and you have a constant conversation complete with photos.  We are now forever in each others pockets.  Here I am in Puerto Vallarta, keeping up on how other writers are spending their holidays: Brent Piaskoski, Barb Haynes, Mark Farrell, Mike McPhaden, Polly Washburn and so many others.
(And John Callaghan suggests another use for my iPhone in the comments of my last post!)
The Future
For all of these digital developments that have affected us as writers, I can't think of any recent innovations that have affected how we write, what we write or how we make a living.
Musicians, journalists and print writers haven't been so lucky.  This past decade has made it far harder for them to make a living.  In the next decade, they will have to re-invent their industries if their métiers are to continue to exist.
That job lies ahead for us as well.  Change is coming, there is no doubt.   I'm not saying television and film are going to die.  They will undoubtedly continue to exist just as the recording industry lives on.
I have a lot of predictions for the next decade.  I can't see all the Canadian simulcast reliant broadcasters surviving in a world where anyone can watch whatever they want when they want it.  I'm pretty sure the traditional lines between advertising and television — which are already — blurring are going to fade entirely.  Game elements are going to creep into narrative.  Audiences won't be satisfied with a story told in a single medium.  Traditional revenue models are going to fall.  Audiences will become collaborators in storytelling.  It's all already happening, but in the next decade we're really going to have to deal with it.
Most worrisome are the coming challenges to how we earn our livings.
Luckily we're in a much better position to deal with all of this than musicians were when P2P appeared on the scene.  Technology took them by surprised.  But we know what's coming – if not specifically, then generally.  We're got a few case studies to learn from – the musicians, the journalists, the book writers.
We have a strong, smart guild in the WGC, that has a little bit of money and a voice that is heard by the government, industry and media.
But most importantly, we are now a strong, connected, informed community.
And as sweeping change takes hold, there is no one I would rather have helping me figure out how to adapt than a bunch of writers.  Do you know any group that works through a problem better than a story room?
I'm looking forward to 2010 and beyond, to the next technologies, to the rebirth of creativity, to a re-imagining of the entertainment industries and to an ever stronger community of writers.
Happy New Year.  See you next decade.